Recently we implement TS 2008 on our site, and our entire client PC having Windows XP Service Pack 2. To access TS Application, we need to have RDP 6.1 installed on every system, but there is not update available for the same on WSUS.

It's really difficult for us to install RDP 6.1 manually on more than 1000 desktop located in various branch offices all over INDIA, anyhow we have to deploy it via GPO.
So, we made a MSI package with no user interaction, which actually extract WindowsXP-KB952155-x86-ENU.exe into %windir%system32 then use silent switch to install hotfix.
To deploy this via GPO, we have to deploy it under computer policy as follows, because it required admin privilege to extract its content under %windir%system32. So, if we deploy it on Computer Policy, it will execute MSI with system account which already has admin privilege.
GPO Deploy Fig-1

GPO Deploy Fig-2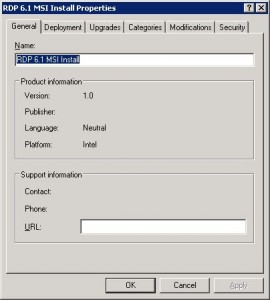 GPO Deploy Fig-3

Download link of RDP 6.1 MSI Package, Hope this will help you all to deploy the same.


RDP6.1_MSI_Package.msi (3.3 MiB, 4,460 hits)
Disclaimer: All posts and opinions on this site are provided AS IS with no warranties. These are our own personal opinions and do not represent our employer's view in any way.
This article currently have 15,524 views

This work is licensed under a Creative Commons Attribution-NoDerivatives 4.0 International License.