Following things you need…
Following steps you have to follow…
Install Nokia PC Suite 7.1 & Connect your Phone to finish installing all drivers and restart your system
Install JAF v1.98.62 after restart (But don't install Nokia Cable Driver comes with JAF Installer).
Now close Nokia PC Suite from Task Manager before you connect your phone to your PC.
Now you have to change Compatibility Mode on PKEY Emulator v5.
Now start JAF using your PKEY Emulator v5.
To Check JAF is working or not, tick on Prod. Manager on JAF and click SERVICE Button.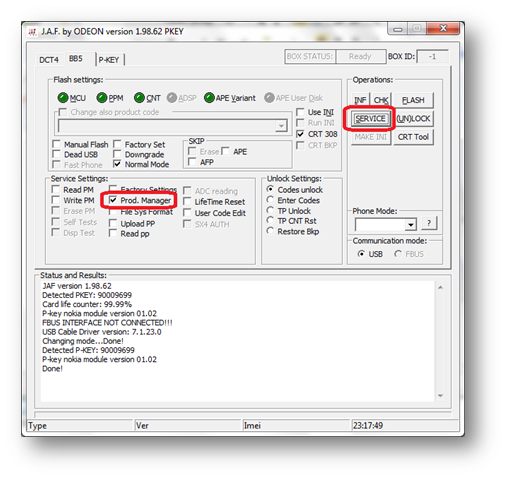 Following windows will appear after clicking SERVICE Button.
Now click on Read Values Button, and after click you will get the values like following window, it means JAF is working fine.
Everything is SET. Now you can FLASH your Nokia Phone…  🙂

Flashing my 5800 on Windows 7…
Progress…….
Complete…….

This work is licensed under a Creative Commons Attribution-NoDerivatives 4.0 International License.